Turning sewage sludge into a nutrient rich organic fertiliser
Multi-utility firm Altogether Group has partnered with Loop Organics, to rehabilitate former mines in the Hunter region by turning sewage sludge into a nutrient rich organic fertiliser called BiomixTM.
The sustainable approach creates a valuable resource from the sludge – known as biosolids - and will save approximately 800 tonnes of waste every year from ending up as landfill – one of the most serious issues facing the environment.
Altogether currently owns and operates seven state-of-the-art local water centres - including the world's largest in-basement residential water centre at the internationally-renowned Central Park in Sydney. It has capacity to provide wastewater and recycled water services to 25,000 customers, alongside an embedded energy business servicing 30,000 customers.
In the Hunter region, Altogether has been looking for ways to use the waste that it collects from its unique recycled water communities in Pitt Town and The Gables, in Sydney, and Huntlee and Cooranbong.
"By capturing valuable organics, nitrogen and phosphorous from waste and turning it into  BiomixTM, we can create nutrient-rich topsoil that will encourage plant growth at former mine sites and help bolster productivity of agricultural lands," says Darren Wharton, Altogether's Executive Manager - Sustainable Utility Services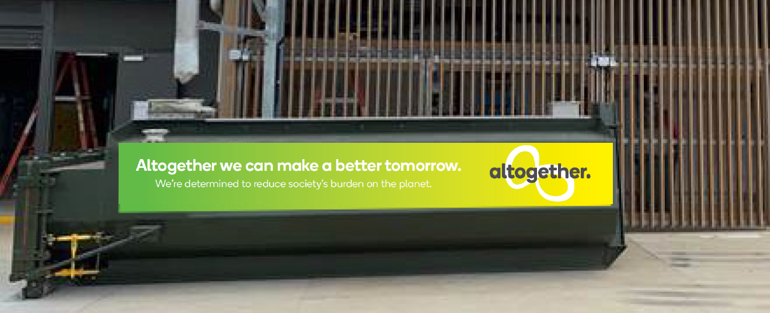 "We're committed to the creation of a circular economy through the recovery and reuse of local resources.
"Working with Veolia and Loop Organics to turn waste from four of our communities into something that can help restore the natural environment and cut down on waste is a natural fit with our ethos of creating a better tomorrow."
Veolia collects the waste from the Altogether recycled water communities and delivers it to Loop Organics' facility at Ravensworth in the Hunter Valley. The facility makes specialised soil amendment products to be used in agriculture, mine rehabilitation and composting.
It is able to process approximately 55,000 tonnes of garden organics and biosolids each year.
"We want to move beyond the linear approach to economy, where you take raw material, turn it into something that is used and then thrown away," says Mr Wharton.
"Instead, we want to create a circular economy in the locations where we operate—one that delivers positive benefits to people in our communities and the environment and that also makes use of the products that would otherwise turn into landfill."
Returning mines back to natural state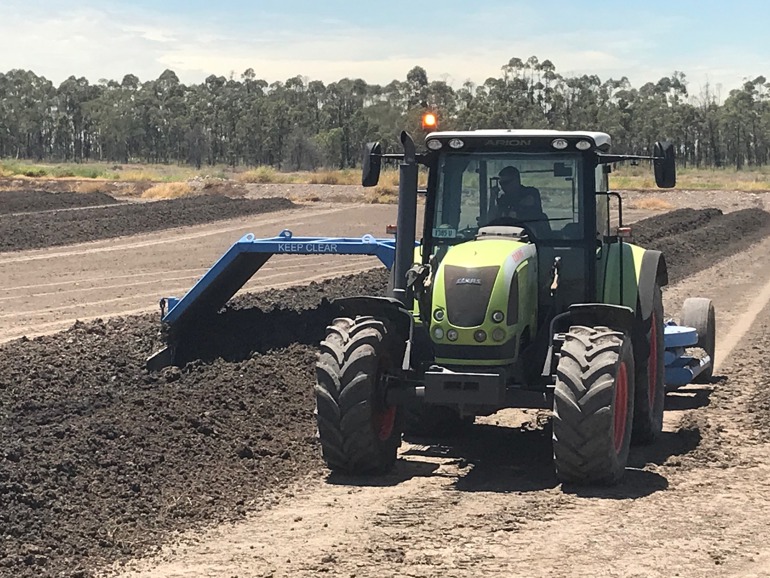 Open-cut mining generally involves removing and storing topsoil to make way for the mine site and associated activities, such as dams, buildings and roads. The issue with storing topsoil in the longer term is that soil quality decreases and sometimes can be mixed with mining spoil, which does not encourage plants to grow.
Rehabilitating open cut mines involves replacing topsoil that was removed for mining operation to help restore the site back to its previous use, often pastures for grazing or bushland. Biosolids and Biosolid products, have been recognised as a beneficial organic soil amendment that can improve the outcome of rehabilitation programs.
Loop Organics has been processing biosolids in the Hunter Valley since 1994. Its services include organics composting, wastewater treatment plant and organic waste lagoon desludging, solids dewatering, collection, transport and land application.
Depending on legislative and regulatory requirements and the relevant guidelines, this may include using biosolids in agriculture, mine rehabilitation and in composting.
Lisa Rawlinson, the Director of Loop Organics says the company works with Councils, water authorities and local utilities.
"Biosolids products are an economical solution to increase soil fertility, lowering costs and providing a sustainable, long-term solution.
"Loop Organics is committed to continually improving the sustainability of our operations.  In order to do this, the business has recently participated in the NSW EPA's Sustainability Advantage program," she says.
One of the outcomes of this program includes the business developing a clear road map and commitment to achieving Net Zero Emissions by 2030." 
Celebrating nine months as Altogether
In February this year, sustainable utility partners Flow Systems (NSW) and Meter2Cash (Queensland) officially joined together under the new name of Altogether Group. While the two businesses had been working together since 2016, the rebrand reflected the company's evolution towards a true multi-utility provider.
"Altogether is instrumental in the creation of the sustainable multi-utility market within Australia in both the retail and agency space," says Terry Leckie, Altogether's Founder and Chief Executive Officer. "We are passionate about creating sustainable communities and buildings of the future."
Backed by leading renewables, utilities, property and social infrastructure asset manager Morrison & Co, Altogether delivers off-grid solutions from resources – sun, rain, wind, waste – captured within communities across NSW and Queensland.
Capitalising on robust advanced technologies, Altogether's utility solutions provide significant cost savings to developments, bringing properties to market earlier and creating value for new property owners and residents.