Cooranbong LWC turn on it's taps
As Newcastle and the Hunter region continues to recover from the millennial drought, Watagan Park in Cooranbong is demonstrating how it's possible to save precious potable water resources and keep residents' lawns lush and green.
With water restrictions fresh in people's minds, representatives from developer Johnson Property Group (JPG) and Altogether, Australia's first sustainable water utility, officially opened a recycled water treatment plant servicing Cooranbong's current and future community.
Managing Director, Keith Johnson, said the new plant is a prime example of the kind of visionary thinking that is necessary to adapt to the harsh drought conditions experienced across NSW.
"It's critical when we are planning new communities that both Government and the private sector make sustainable long term investments in water, so that we have sufficient water in good times and bad. 
With infrastructures constraints JPG also had the view that it simply wasn't good enough to waste drinking (potable) water and at the same time do nothing to conserve wastewater from homes. 
This water centre shows what is possible and it will deliver benefits to our community, the broader Hunter community and the environment for many years to come.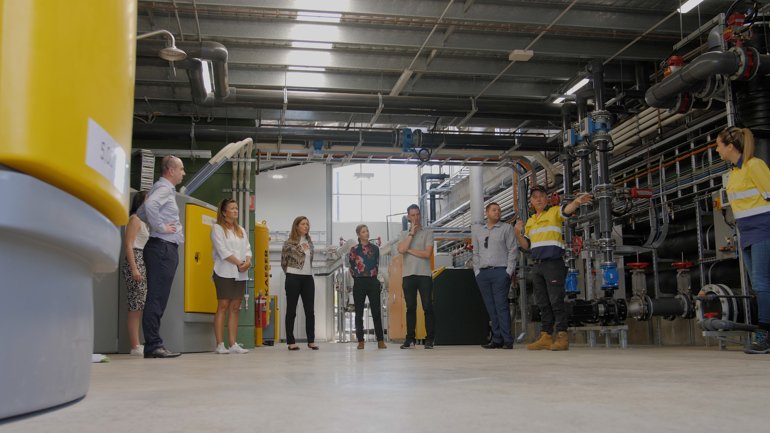 CEO of Altogether Terry Leckie advised "The recycled water plant among others delivered by Flow Systems for greenfield developer and high rise builders is helping the community take significant demand off the potable water system, cutting use by about 70 per cent."
While residents will rely on  potable water for drinking water and bathing, the plant will be producing recycled water to offset water usages meaning they aren't subject to the same tough water restrictions as others all over the region. Residents can still wash their cars and maintain their gardens — helping the project deliver on their vision of being "nature's playground".
We believe such water centres are the future and although they are generally supported by Government there are many areas where the approval and delivery or such vital infrastructure could be streamlined, supported and incentivised to make the process faster, cheaper and more certain, so that recycled water becomes the norm rather than the exception. It's a no-brainer." 
Altogether has designed the $16M plant to future-proof the community with the ability to save 1 megalitre per day of valuable drinking water.
Currently pumping 0.5 megalitres per day this system will deliver recycled water to households in Cooranbong for use in:
watering gardens and open spaces
washing cars
suppressing dust
running the washing machine; and
flushing toilets
Watagan Park currently has over 300 homes occupied with a residential population of more than 1,000. At completion, there will be 2,500 homes and around 6,000 residents. The expansion plans for the plant mean the community will continue to be serviced by recycled water as the population grows. 
"It is critical that we invest in new infrastructure to help the Hunter and broader Sydney regions manage its water use for the long term and Altogether is delighted to be working with JPG to do this," says Mr Leckie.